Below is a list of frequently asked questions you may have regarding your counseling session. If your question is not answered here, please use the contact form at the bottom or contact us by email or phone and we will get back to you with an answer.
How do I know if I need therapy?
Therapy is for anyone looking to make a change, develop insight, or achieve personal growth. Often times people seek therapy for stressful life events such as the loss of a loved one, relationship discord, or life transitions.
What method or approach do you take when working with clients?
At DK Therapy, each therapist tailors their approach to meet the client's needs in a supportive, compassionate environment. We consider therapy to be a collaboration between the therapist and client, working together to achieve change and growth. Our therapists use a blend of evidence-based therapies including: Acceptance and Commitment Therapy (ACT), Dialectical Behavioral Therapy (DBT), and Cognitive Behavioral Therapy (CBT). The therapists that work with couples, use Gottman Method Couples therapy and Emotionally Focused Therapy (EFT).
What can a counselor/therapist tell me about myself that I don't already know?
Therapists are trained to ask the right questions, point out the discrepancies between a client's words and actions, and offer an unbiased perspective. We can provide feedback on the thoughts, feelings, and behaviors that are keeping you stuck and unable to be the best version of yourself.
How will I know if you are the right fit for me?
Looking for a therapist is like shopping for shoes, you have to find the right fit. Some therapists, like shoes, are a bit stiff and rub you the wrong way. Others you try on and just know that they are the right fit for you. Our therapists aim to be the best fit for all of their clients, but recognize that sometimes they would like to try on another therapist or are just 'shopping around.' We will do our best to assist you in finding your right fit if we are not it.
Will what I say in therapy be kept confidential?
Absolutely! Illinois law and professional code of ethics ensures that information is not disclosed without written consent.  There are a few exceptions to this rule:
1. Suspected child or elder abuse (We are mandated reporters)
2. Serious risk of harm to self (It is our responsibility to ensure a client's safety, and we will make every effort to do this collaboratively)
3. Serious risk of harm to others (Duty to warn an intended victim)
What can I expect after making an appointment?
After you make your first appointment, you will be emailed two e-mails:
A confirmation e-mail with the day/time of your appointment and additional directions on how to get to our offices.
An e-mail with a link to your web portal where you can review and complete all the necessary paperwork prior to your appointment. You will be instructed to complete a questionnaire online regarding your history and what you are seeking out of therapy. Please complete these online prior to your appointment.
We will also verify your insurance coverage if you would like to use it and e-mail you your benefit information prior to your first appointment.
The first time you and your therapist meet, they will check your forms, review your history, and discuss what causes you to be seeking help. You'll leave that visit with some suggestions, an idea of your longer-term goals for therapy, and renewed hope.
Questions about appointments?
How do I schedule an appointment?
You can schedule an appointment three different ways:
Call or text us at 312-248-3190.
Send us an e-mail at info@dktherapy.com.
We will get back to you quickly (usually within the same day) and often see new clients within a day or two after initial contact is made.
How long is a therapy session?
Sessions are 50 – 60 minutes, but the course of your therapy program is tailored to each individual person based on the concerns you would like to address.
How often should I come in for therapy?
For clients who are new to therapy or new to our practice, we usually recommend coming in weekly until a solid plan is in place. We then taper sessions off to every 2 weeks and then every month. Average length of therapy is 3-6 months. Our goal is for you to gain the tools you need to live a meaningful life and eventually be able to apply the skills you learn in sessions independently. This varies based on each individual need and concern.
Can I cancel or reschedule my appointment?
You may cancel or reschedule your appointment by contacting us by email or phone. We require a 24-hour notice or you will be charged a cancelation fee.
Do you do phone or online sessions?
Most of our therapists currently offering online video sessions via HIPPA (secure) programs called ReGroup Therapy for individual clients. If you would like to schedule an online video session, please indicate that when booking an appointment and we will e-mail you instructions on how to access the program before your session.
Many studies have shown that online therapy is just as effective as in person therapy. Online therapy sessions would be the same fee as in office sessions and would depend on your insurance plan.
Online therapy can be a convenient and effective way to fit therapy sessions into your busy schedule. We offer online therapy for new and established clients and an alternative to coming into our office.
Due to the type of therapy we utilize with couples, we do not provide online sessions for couples.
**Your insurance plan may not cover your online video sessions. This varies by plan and we will let you know if your insurance does or does not cover online sessions upon checking your benefits.**
Phone sessions are offered on a case-by-case basis and are usually not covered by insurance.
Do I need to bring anything to my first appointment?
We recommend bringing your insurance card and/or employee assistant program information. We also require a credit/debit/HSA/FSA card to keep on file for payment. We will send you an electronic receipt for your payments.
Can I sign the first session forms before my first appointment to save time?
Absolutely! We will e-mail you a link that will allow you to access your secure online portal. Once you create your unique password and login, you will agree to our first appointment forms as well as fill out a form asking you for your demographic and insurance information (if you have not already provided me with this information). You do not need to print the forms and can agree to the forms electronically using your computer. For couples, we will e-mail each partner their own link. You may also choose to fill out the forms during the first session as well, although filling them out beforehand is ideal since this will allow you and your therapist more time to get to know one another during the first session.
Feel free to e-mail us with any questions you may have about the forms prior to your first session.
When I first come to your office building, where do I go?
You can enter the building from Michigan Avenue through doors on the north or south side of the building, depending on which way you are coming from. The elevators are right when you get in and you press the button in the middle to signal the elevator operator. Let the operator know which floor you want to go to (ninth). Then when you get off the elevator go straight down the hall and make a left. Our offices are the second to last doors on the right and left of the hallway, suites 928 and 935. We do not have a waiting room but you can have a seat on the benches outside our office if the door is closed. You can also explore the building if you'd like. Our next door office mate, Nora, is a violin instructor, so if you hear violins, you are in the right place!
Can I see some pictures of your office?
Sure! When decorating, we were aiming for a comfortable but stylish living room feel.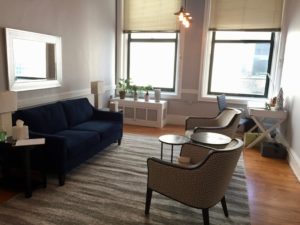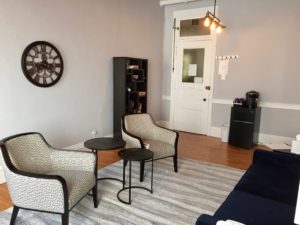 Questions about insurance and payment options?
What are your fees?
Our fees depend on your insurance coverage (deductible, co-pay/co-insurance). For clients who do not have insurance and would like to information about our reduced fees, please discuss this with us before the first appointment.
Do you accept insurance?
We accept most major insurance plans including the following:
Aetna
American Behavioral
Beacon/ValueOptions
Blue Cross/Blue Shield PPO
Blue Cross/Blue Choice PPO
Cigna
Harken Health
Humana/Lifesync
Magellan Behavioral Health
United Health Care/Optum/United Medical Resource
For a more extensive list, of the insurance plans we accept, please click here.
Do you bill my insurance directly?
Making the decision to seek out a therapist, booking an appointment, and finding the courage to attend the first session is difficult enough. We hope to reduce some of that stress and allow you to focus on your therapy goals.
At DK Therapy we will:
Verify your insurance coverage for mental health
Contact you prior to your first session about your benefits and fees
Bill your insurance company directly (whether we are in-network or out of network with your insurance).
What forms of payment do you accept?
Do I need to use insurance?
While using insurance has its benefits (often cheaper for you, fees go towards deductibles), you do not have to use insurance and can choose to keep your sessions completely private. If you would like to self-pay, please discuss this with us prior to your first session.
What information is released to my insurance company or EAP?
If you would like to use your insurance benefits, the insurance company will need a clinical diagnosis, date and time of sessions, and the duration of your sessions. Any specific information about the session will not be released without a specific release of information.
Each EAP company is different and require different information about sessions. The specific information that will be released to the EAP company is included in the EAP's release of information that will be given to you at the first appointment.
What insurance information do you need in order to tell me my fee for sessions?
In order to check your insurance mental health benefits, we will need the following information:
Name of your Insurance
Name and Date of Birth of the Primary Insured
Insurance ID Number
Insurance Group Number
Customer Service Number (usually located on the back of your insurance card
You can also e-mail us a copy/picture of your insurance card (front and back) prior to your first session.