One of the best TED talks I was ever introduced to was one by Brene Brown called "The Power of Vulnerability." I've read a few of her books, but I still like to watch the TED talk every now and then to remind myself how important vulnerability is within the therapeutic setting.
I often have clients say to me in session "I'm sorry I was so emotional" or "I'm sorry I cried the whole time." It's interesting to me that clients feel the need to apologize for their vulnerability during session. I can definitely see why they do this. Most people were raised not to express vulnerable emotions, weaknesses, and flaws. Having to do just that while in therapy for one hour each week or so can be incredibly intimidating! I remember I had one client who said he needed to "take time" after our sessions because he was not used to telling anyone, let alone someone he didn't really know, about his unpleasant emotions and flaws.
I am always careful not to placate or invalidate a client's vulnerability by saying "it's ok." Instead, I try to thank them for trusting me enough to be vulnerable in session because that is what I need to see in order for clients to make changes in their life. As a therapist, it is often difficult for me to sit with my clients when they are so vulnerable. In a way, I empathize so much, that I start to feel vulnerable myself. This is a process for me and for every therapist.
I believe that once you can have a vulnerable conversation, one where you express and sit with your true and unpleasant feelings/thoughts, in the therapeutic setting, you can start to be vulnerable in your every day life. State dependent learning anyone? Take that client I mentioned earlier, he was exercising his "vulnerability muscle" if you will. Soon, he was able to have more emotion-focused conversations with his wife, where he would admit his insecurities about their marriage. This brought them closer and wouldn't have happened had he not practiced and become more comfortable with being vulnerable.
My challenge to you, is to make yourself emotionally vulnerable to someone once a week to start flexing your "vulnerability muscle." For me, this is usually admitting to someone that I do not know the answer and will have to look it up, asking for directions, or admitting I was not fully listening to a friend or family member when they were speaking. Each time I do something like this, I become more comfortable with being emotionally vulnerable and I would hope this makes me more equipped to sit with vulnerability in the therapy room. My hope is that it would also allow my clients to be more vulnerable with me in session. After all, if you cannot be vulnerable with your therapist, who is un-biased and non-judgmental, with whom can you be?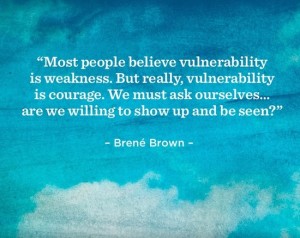 http://chicagocounselingandtherapy.com/wp-content/uploads/2015/05/brenebrown4.jpg
437
550
Danielle Kepler, LCPC
http://chicagocounselingandtherapy.com/wp-content/uploads/2015/05/new_logo2.png
Danielle Kepler, LCPC
2015-05-15 13:00:28
2016-02-15 18:51:41
Vulnerability During and After a Therapy Session