I contributed to the following article for the Huffington Post on how to avoid Gottman's 4 Horsemen patterns that eventually 'kill' your marriage: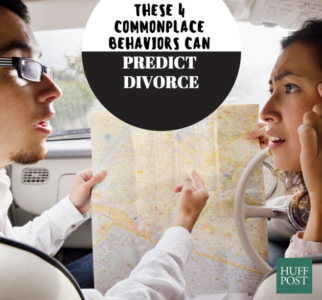 Criticism:
Think about what's really bothering you before criticizing your spouse. 
"Before approaching your partner, take a few moments to figure out what the issue you need to bring up actually is. Then, take time to change your criticism into a complaint: Instead of saying 'You always leave your shoes on the floor,' say, 'I'd appreciate it if you put your shoes in the closet.'" — Danielle Kepler, a therapist based in Chicago, Illinois
Contempt:
Make a point to show how much you value and appreciate your partner. 
"Contempt develops when either partner feels unvalued. Make it a habit to tell your partner one thing they do each day that you appreciate. It can even be something small, like making you coffee in the morning." — Danielle Kepler
Defensiveness:
Try to be sympathetic toward your partner. 
"Slow down and listen for something, anything, you can agree with that your partner is saying. Try to take responsibility for a small part of the issue. 'I see your point' goes a long way." — Danielle Kepler
Contempt:
Come up with a safe word that conveys your need for a break.
"When you're starting to feel overwhelmed, communicate it to your spouse with a signal. Once you are both calm, continue the discussion." — Danielle Kepler
Read more of the article here.
http://chicagocounselingandtherapy.com/wp-content/uploads/2016/10/5772fa4e1900002500218646-e1476664364237.png
300
322
Danielle Kepler, LCPC
http://chicagocounselingandtherapy.com/wp-content/uploads/2015/05/new_logo2.png
Danielle Kepler, LCPC
2016-06-28 17:46:04
2017-06-29 15:22:31
4 Things You're Likely Doing That Will Eventually Kill Your Marriage